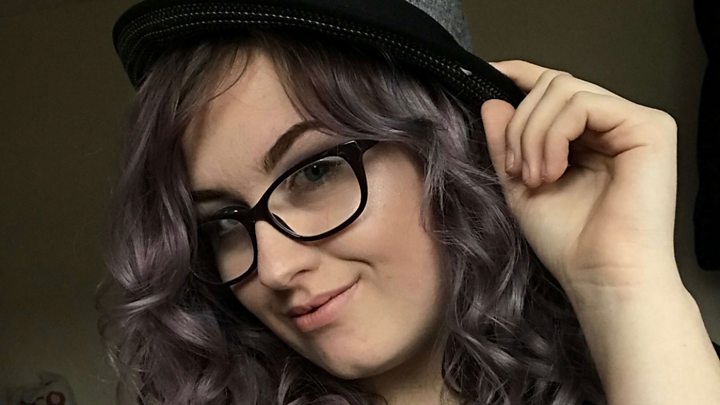 Two teenagers have been jailed for life for murdering a 17-year-old girl in an east London park.
Jodie Chesney was stabbed in the back as she sat with friends in Harold Hill on 1 March.
Svenson Ong-a-Kwie, 19, and Arron Isaacs, 17, of Barking, were both convicted earlier this month after a trial at the Old Bailey.
Ong-a-Kwie, of Romford, will serve a minimum of 26 years while Isaacs was detained for at least 18 years.
Explaining the sentences, Judge Wendy Joseph QC told the court she was "satisfied" Ong-a-Kwie had stabbed Jodie while Isaacs was a "willing supporter".
"When that knife was driven into Jodie, that intention was to kill," she said.
She added that her death "was part of a series of tit-for-tat attacks" which had been "increasing in ferocity", and "although the target was not Jodie… there was a degree of planning".
During the trial, each of the defendants blamed each other for the attack but a jury took less than six hours to find them both guilty of murder.
In an impact statement read before sentencing, Jodie's father Peter Chesney said the death of his daughter "has destroyed my life".
The 39-year-old, who was not in court, described how a year ago he had started a new job as a salesman in the City "and I was about to take over the world in a promising career.
"Now I sit here in the cabin in my garden writing this statement. I have left that job, the relationship with my wife has fallen apart and we are now getting divorced. I must sell my house, and above all, I have lost the most precious human being I will ever know," he said.
Following the stabbing, Jodie collapsed into the arms of her boyfriend Eddie Coyle who told the court he had been "completely changed" by the events of that night.
"I find it hard to sleep most of the time. I've been diagnosed with PTSD from this, and it keeps me up most nights so I don't sleep," he said.
The court had heard drug dealer Ong-a-Kwie and his runner Isaacs had been looking to take revenge on rivals but had killed Jodie by mistake.
She had been socialising with friends that evening when two figures emerged out of the dark and one plunged a knife in her back.
The two defendants fled in another drug dealer's car but were arrested together days later as they fled from a house linked to Isaacs, the jury were told.
Ong-a-Kwie had convictions for possessing and supplying drugs and had admitted being in breach of a six-week suspended sentence for handling stolen jewellery.
Two other people – Manuel Petrovic, 20, of Romford, and a 16-year-old boy – were both cleared of murder and manslaughter.
Met Police officer Det Insp Perry Benton described the investigation as "one of the hardest I've ever dealt with", adding that the defendants "have shown no remorse from day one".
Speaking following the sentencing, Jodie's uncle Terry Chesney said the family were "happy" with the jail terms and would now "try" to get on with their lives.
"Today was justice. We'll never get her back, but we've got justice," he said.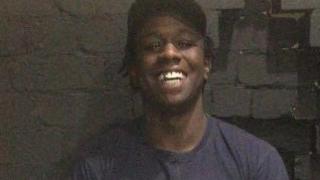 Two men and three teenagers have gone on trial accused of a gangland murder described as being "reminiscent of a Hollywood film".
Kamali Gabbidon-Lynck, 19, bled to death after being stabbed at a hair salon in Vincent Road, Wood Green.
He was killed in an attack on 22 February as a result of "a longstanding and mutual hatred" between two rival gangs, the Old Bailey heard.
Another man, Jason Fraser, 20, was shot and stabbed eight times but survived.
Tyrell Graham, 18, and four others who cannot be named for legal reasons, deny murder and attempted murder.
The jury heard the five defendants and two other men had gone to Wood Green armed with knives, a handgun and a shotgun.
Mr Gabbidon-Lynck ran into a hair salon when he was confronted by the group.
The court heard the teenager, who was linked to a North London gang called the WGM, died after one of the knife blows severed an artery.
His alleged killers were said to be linked to Tottenham gang the NPK.
They were part of "an armed group who chased down their targets, they produced their weapons and they butchered them", said prosecutor Oliver Glasgow, QC.
Members of the public, including mothers with pushchairs, ran for their lives as the violence unfolded, the jury heard.
Mr Glasgow added it was "more reminiscent of a Hollywood film than a winter's night in north London".
The trial continues.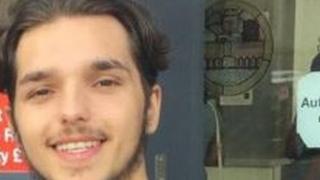 A 14-year-old boy accused of a stabbing murder has been remanded to a secure unit.
The teenager, from Barking, appeared at Thames Magistrates' Court on Saturday morning over the killing of Santino Angelo Dymiter, from Plaistow.
Eighteen-year-old Mr Dymiter was found injured on the afternoon of 26 August by emergency services at Chadd Green, east London.
The judge remanded the 14-year-old to appear at the Old Bailey on Tuesday.
The boy, who cannot be named for legal reasons, is also accused of having a knife in a public place.